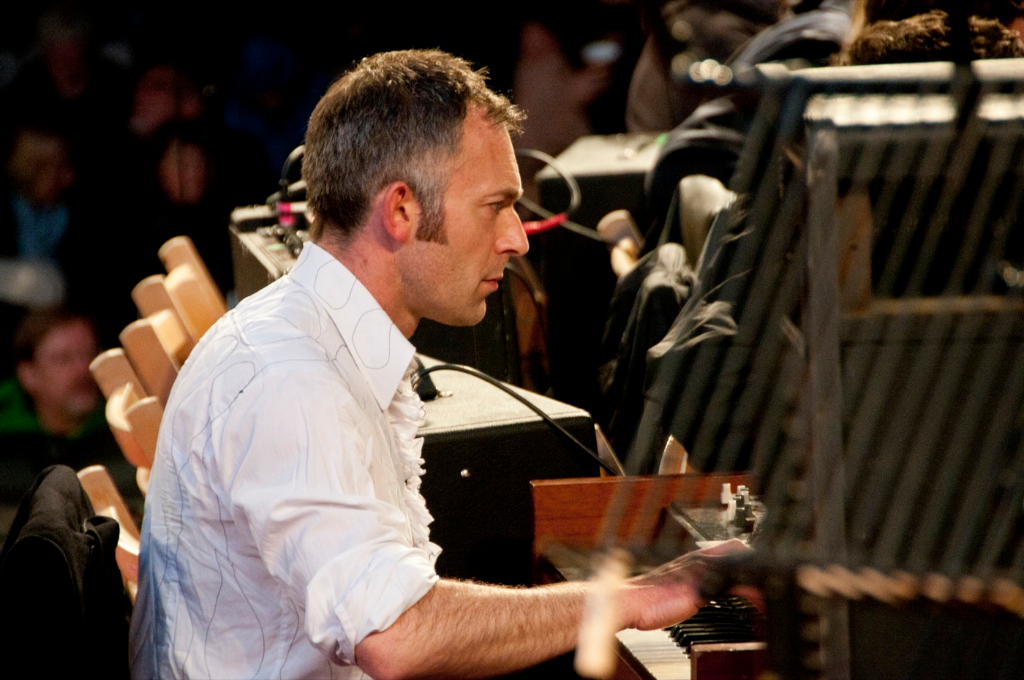 Don McCullin
If the words "great" and "photographer" can be convincingly brought together, then Don McCullin must be counted among the great photographers. From his origins in a tenement basement in north London (a place he describes himself as one of "ignorance, bigotry, poverty and violence") he travelled the world as a photo-journalist. He started at a time when this profession was the essence of glamour, courage and sex appeal. But his main focus was not on models and movie stars but on the barbarism and insanity of war. No-one has stared harder at this most terrible of human activities. As a counter to the ubiquitous frontlines of the world, Don stands ankle deep in mud in the soggy fields of Somerset, producing landscapes with a dark power reminiscent of his war photography.
Charles Hazlewood
The conductor and composer Charles Hazlewood is a man it's almost impossible to keep up with. The Telegraph tried, and failed, to describe his multifacted output:"Hazlewood's musical interests are engagingly diverse. When he's not conducting prestigious orchestras, he can be found promoting new music festivals on his farm in Somerset, or collaborating with the rapper Kanye West." That fails to mention his regular appearances on television and radio as an advocate for all kinds of music, the opera company he runs in South Africa or his creation of the world's first "paraorchestra"
Joanna Foster
Joanna Foster brings to WAC the benefit of her unusually wide perspective and equally broad experience. For 10 years she was Chair of the Crafts Council, helping to raise the organisation's profile, not least through a highly successful series of exhibitions at the V&A Museum in London. She has also been chair of the Equal Opportunities Commission, chair of an NHS Trust, in Oxford, and an associate fellow of the Said Business School, Oxford University.
Simon Gillespie
Simon Gillespie founded a fine art conservation and restoration studio in 1982. Based in the centre of London's West End, he and his studio have been restoring some of the most interesting artworks in private collections as well as some in public collections. With his interest in contemporary art, his career has included representing some emerging artists through an active West End gallery for ten years. He is very proud to be a patron of WAC.
Michael Eavis
Michael Eavis is the founder of Glastonbury Festival. He holds Honorary Degrees from the University of Bath and the University of Bristol and was awarded the CBE for services to music in the Queen's 2007 Birthday Honours list. In 2009, he was nominated by Time magazine as one of the top 100 most influential people in the world and was subsequently awarded an honorary Master of Arts degree from the University for the Creative Arts in 2012.
Luke Piper
Luke Piper is a world traveller whose home base is Somerset - just like his fellow Patron, Don McCullin. Yet his work could not be more different from that of the celebrated photographer. Luke's painted landscapes do not brood, except on very rare occasions. Instead they explode with colour, vibrancy, texture, life. His is a tradition of painting that evokes Constable and Turner, Cezanne and Van Gogh - and, unsurprisingly, his renowned grandfather, John Piper, and his father, Edward Piper. Luke's philosophy as an artist is eloquently compressed on the homepage of his website: "...the colour, light and structure of our surroundings fascinates the more you observe, until you finally unearth the raw spirit of it all and come home feeling infinitely satisfied and strangely human..."
Alexander Sturgis
Unquestionably, the words "great" and "museum" have gone together for centuries. And the Ashmolean, in Oxford, is most certainly one of the great museums - made even more so by its recent physical transformation. Xa Sturgis became Director of the Ashmolean in 2014, after eight years directing another brilliantly reinvigorated museum, the Holbourne, in Bath. Before that he was a key figure at the National Gallery, in London. As well as conjuring a spectacular balance between old collections and new art, Dr Sturgis also has another life, as the magician, The Great Xa.
Justin Mortimer
Justin Mortimer is a British artist whose paintings consistently invite us to question the relationship between subject matter and content, beauty and horror, and between figuration and abstraction. While the imagery is almost exclusively pitiless, the texturing of the paint, the play between light and shade and the passages that lead from photo-realist definition to near-abstract formlessness are so sensitively handled as to make the work at least partially redemptive as well as to indicate a key philosophical dimension: the oblique relationship between evidence and interpretation.
Hauser & Wirth Somerset
Hauser & Wirth is delighted to be Patrons of Wells Art Contemporary and fully support their ambition to bring international contemporary artists to Wells.
Hauser & Wirth Somerset is a pioneering world-class gallery and multi-purpose arts centre, which acts as a destination for experiencing art, architecture and the remarkable Somerset landscape through new and innovative exhibitions of contemporary art.
Centred around a core belief in conservation, education and sustainability, Hauser & Wirth Somerset offers a wide variety of special events including talks, seminars, workshops and screenings, as well as an extensive learning programme for local schools, young people and families. The centre also provides resources including a bookshop and dedicated learning room, as well as supporting an immersive artist-in-residence programme. On-site restaurant, the Roth Bar & Grill, serves seasonal, locally sourced produce. The centre is open with free admission to the public, six days per week, throughout the year.
Professor Sir Christopher Frayling
Sir Christopher Frayling was the Chairman of Arts Council England from 2005 until January 2009. He also served as Chairman of the Design Council, Chairman of the Royal Mint Advisory Committee, and a Trustee of the Victoria and Albert Museum. He was a governor of the British Film Institute in the 1980s.In April 2014 he was appointed Chancellor of the Arts University Bournemouth.
Richard Wentworth
Richard Wentworth has played a leading role in New British Sculpture since the end of the 1970s. His work, encircling the notion of objects and their use as part of our day-to-day experiences, has altered the traditional definition of sculpture as well as photography. By transforming and manipulating industrial and/or found objects into works of art, Wentworth subverts their original function and extends our understanding of them by breaking the conventional system of classification. The sculptural arrangements play with the notion of ready-made and juxtaposition of objects that bear no relation to each other. Whereas in photography, as in the ongoing series Making Do and Getting By, Wentworth documents the everyday, paying attention to objects, occasional and involuntary geometries as well as uncanny situations that often go unnoticed.
With thanks also to The Wells Cathedral, Somerset.
We would like to thank our sponsors and prize-givers for their generous support. If you would like to sponsor WAC, please click here to contact the team.
SPONSORS & NEWS
WAC sponsor Ellie Jones of Andelli Art is presenting an exhibition of work by Richard Allen from 8–30 September 2018. The gallery will showcase his landscape and still life paintings produced over the last two years, complemented by 20th Century works from the Andelli Art collection. Click here for more information.